Artists of the
Mendocino Coast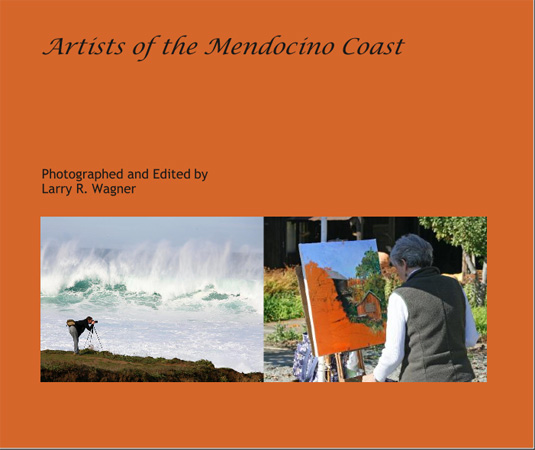 Photographing seventy-seven of our local artists turned out to be one of the most enjoyable projects of my career. The artists' openness, creativity and willingness to work with me in capturing an important aspect of each of their personas made every session unique and rewarding. This book is intended to communicate the richness and diversity of the talent of our painters, jewelers, ceramicists, sculptors, photographers and weavers who thrive in the stimulating environment of the beautiful Mendocino coast.

Larry R. Wagner, November 2007
---
"Larry's beautiful photographic portraits of fellow artists who live and create art on the Mendocino Coast mirror his own enthusiasm for the unique lifestyle that thrives on the rugged northern California coastline. His well designed and elegantly upbeat portraits are a testament to Larry's love for people and photography – an instant Coast classic."

Loren Hammer
Award-winning fashion photographer
GQ, Vogue and Vanity Fair
Introduction
Never before has such a broad sampling of the incredible array of artists of the Mendocino Coast been brought together under one cover. Portrait photographer Larry Wagner conceived the concept in May, 2007, when he took a picture of Sunshine Taylor in front of her show at the Mendocino Art Center. Viewing the shot in the back of his digital camera, he was struck with the realization that the current crop of artists who are busily creating great works in this magical area should have recognition. He asked Sunshine what she thought of the idea, and with enthusiasm that is her trademark, she encouraged him to start at once. Larry and Sunshine collaborated to select 77 artists whom they consider to be treasures of the region. Shooting began on June 27 and concluded on October 26, four months of intense portrait development.
Larry's objective with each portrait was to present the artist as he or she envisioned themselves. They explored the setting, always a place where the person felt comfortable, but never in a photography studio. Attire was key, ranging from bright polka dots to Mendocino casual to an apron at the jeweler's workbench. Poses ranged from playful to serious to mysterious. Sometimes he took hundreds of shots over several hours; other times the first click was the best. The artists and photographer had to be elated and in agreement with the final pictures.
This book evolved from the vision and initiative of Bill and Jennie Zacha who created Mendocino Art Center. They inspired artists, musicians, and performers to transform a derelict lumber town into a thriving tourist center and haven for artistic endeavor. Many of the artists in this book are teachers and exhibitors at Mendocino Art Center. The area claims more artists per capita than probably anywhere in the world. Turn the page and enjoy the richness of the Mendocino Coast palette.
Marilyn Schoefer Wagner
November 3, 2007